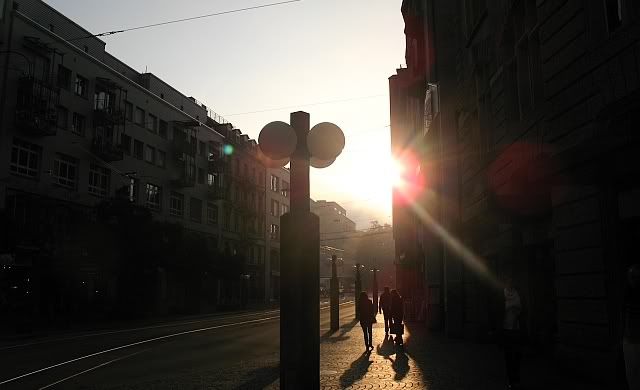 Of course you can have a picture of my neighborhood. What do I do with the point I earned?

I feel like updating, but it'd be the same all the time: alarm clock, work, work, work (it's fun most of the time), no sun, then home or out, cats, www, bed.

Instead, I send an email to V once a day. When he finally talked he also criticized me for not being enough communicative. So I thought I'd do this for a while. Now and then I get a reply that lets me think a dialog could be possible and it's probably not the most stupid thing to do.

And if... Others may think the same. Like my friend G earlier this week. We meet for dinner once in a while.

Her: See you next time. Here, because we always meet here.
Me: Last time we actually met over there. I remember because I took a picture of the rain while I was waiting for you.
Her: You take pictures of the rain while waiting for people?!